the glyptotheque presents the sculptural works of Santiago Calatrava
Architect Santiago Calatrava is widely known for its advanced engineering solutions and dramatic visual statements, its heritage defined by monumental and iconic buildings and bridges. His achievements, however, go beyond larger-than-life works of architecture. Throughout his career he has created numerous works of sculpture – perhaps the best known are the "Constellation" series in Chicago and "The New York Times Capsule" which contains objects documenting life on Earth during the 20th century to be sealed until the year 3000.
Calatrava's most recent body of artwork, including a series in development for twenty years, is now presented together as part of a exhibition at the Glyptothek Museum in Munich dubbed "Beyond Hellas: Santiago Calatrava in the Glyptothek". About fifty sculptures and paintings influenced by the dynamics of ancient Greece which served as a constant source in Calatrava's architectural style, alongside the concepts of the human body and nature, are exhibited. The exhibition opened to the public in June and will be on view until October 23, 2022.
image courtesy of Renate Kühling
conceptual variations of ancient warriors
'Beyond Hellas: Santiago Calatrava in the Glyptothek' is the first exhibition devoted solely to the Spanish and Swiss architecthis works of sculpture and painting. The collection is presented as part of a dynamic dialogue between the architecture of the neoclassical temple-like building from 1830 and the sculptures of the museum.
The main focus of the exhibition is Calatrava's new sculptural series, "The Aegineten", which comprises a body of work in development over the past thirty years. It is made up of fourteen large-format wrought iron works, each perched on an aged oak plinth.
These sculptures are created to appear as modern, almost conceptual variations of the ancient warriors of the Temple of Aphaia of Aegina, drawing on the spirit of the circular dynamic compositions of the shields of the ancient warriors in the temple that were brought to life. day through a contemporary lens. By using raw materials and elements, the architect was able to create works deeply connected to nature, movement and the history of the world.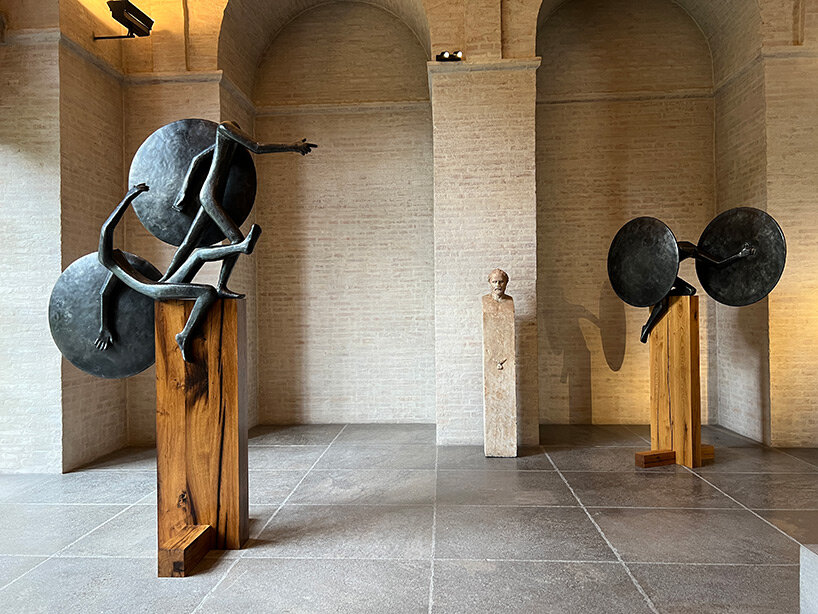 image courtesy of Santiago Calatrava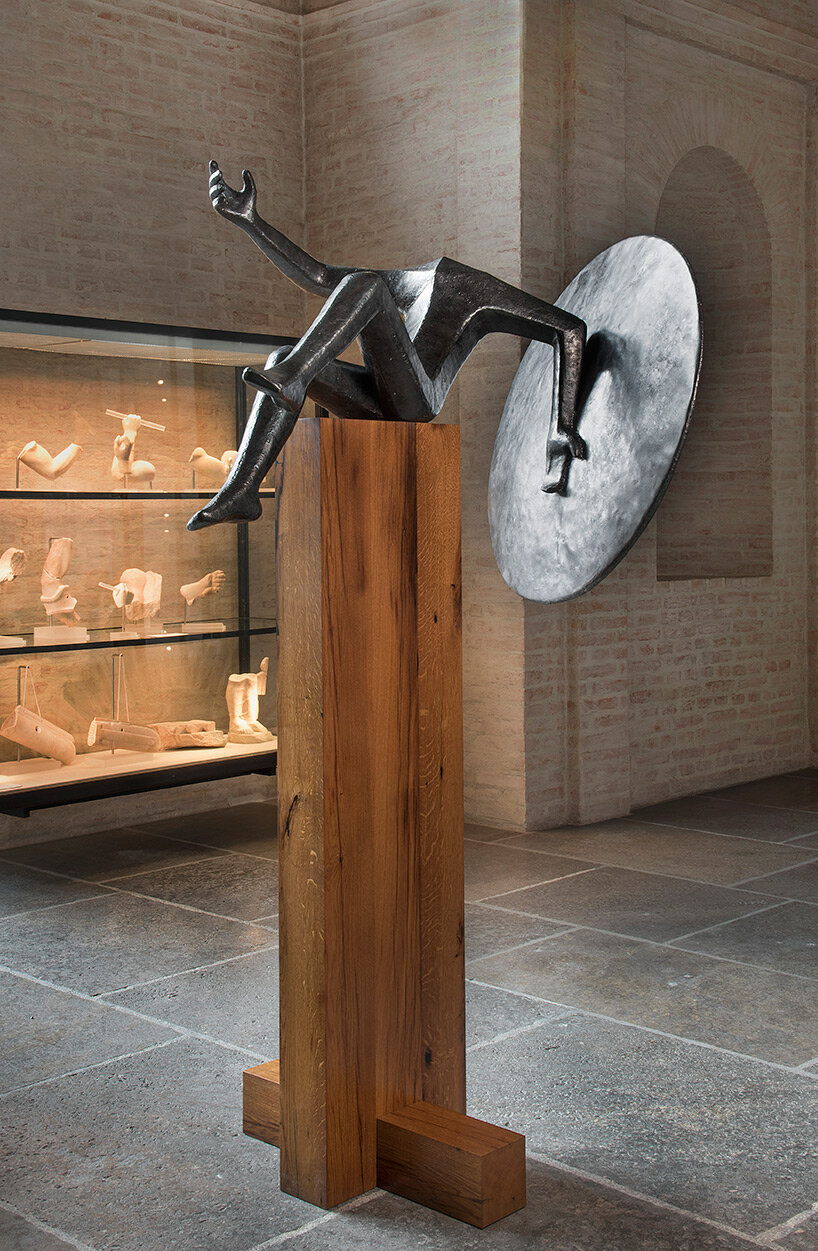 image courtesy of Renate Kühling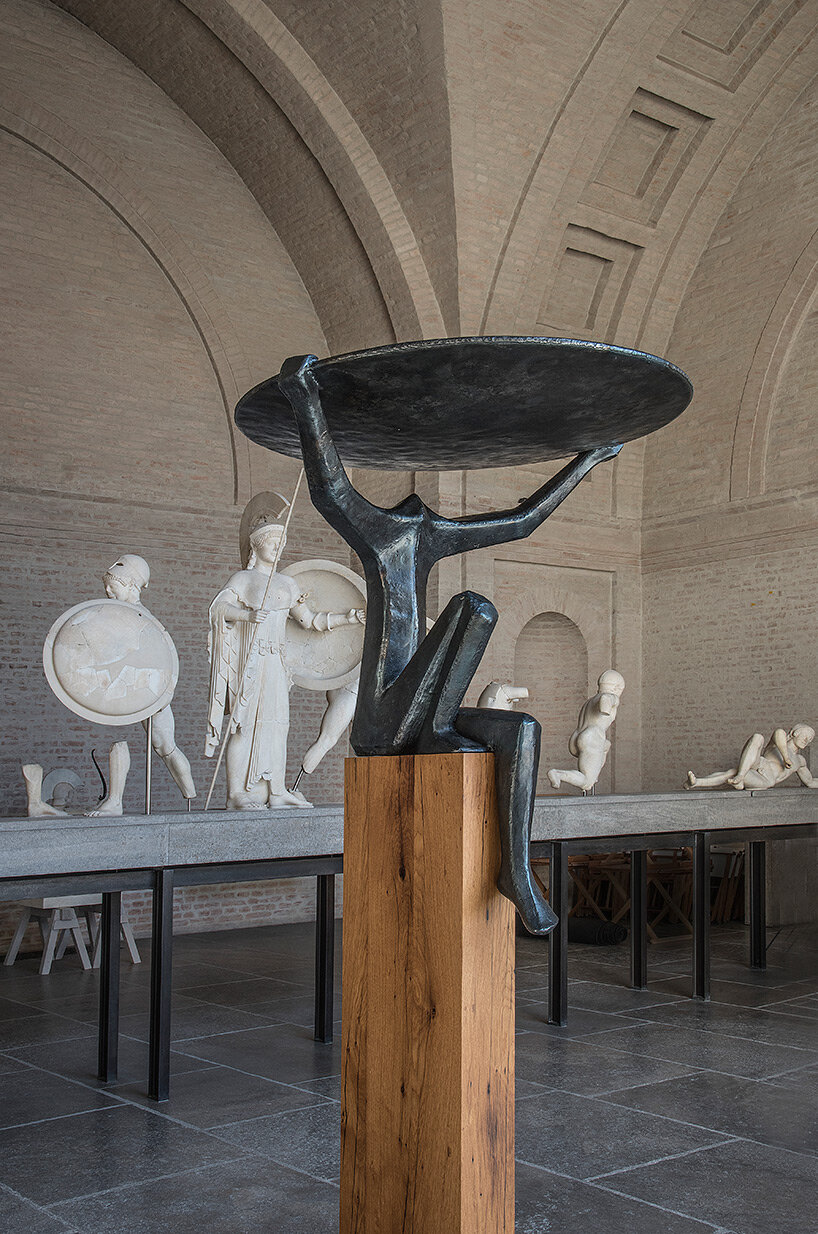 image courtesy of Renate Kühling