Leading artist Anish Kapoor will present an exhibition of recent works at Skulpturenpark Waldfrieden, Wuppertal from August 13, 2022 to January 1, 2023.
The exhibition will feature Kapoor's architectural scale sculpture from 2015 Sectional Body Preparing for Monadic Singularity. A work that is part of Kapoor's emblematic and immersive language of color and the shifting of boundaries between interior and exterior and signals the centrality of the body in the works on display. It is a sculpture that marked a period of renewed intensity in Kapoor's painting practice, and in Wuppertal is exhibited alongside recent works that stand on the border between painting and sculpture, and in a intimate dialogue with the primitive imagery that has emerged in his recent canvas paintings. In this exhibition, the fluidity of paint becomes the metaphor for all that is liquid/unstable in us; in a series of confinements, it is presented in frozen form, whether wrapped in gauze, held in containers like trays, or suspended from steel structures. These are works that look like the result of a ritual action, where the canvas has eviscerated itself in content into a sculptural form.
Anish Kapoor is considered one of the most influential sculptors of his generation. He became internationally famous for his monumental sculptures, many of which have become iconic landmarks across the world.
Born in Mumbai, Kapoor has lived and worked in London, where he studied art, since 1973. He represented the UK at the Venice Biennale in 1990, where he won the prestigious international jury prize "Premio 2000 ". He also won the Turner Prize (1991) and the Praemium Imperiale (2011). His work has been exhibited worldwide since the early 1980s.
His most recent exhibitions include: Gallerie dell'Accademia & Palazzo Manfrin, Venice, Italy (2022); Modern Art Oxford, Oxford, UK (2021); Pinakothek der Moderne, Munich, Germany (2020); Central Academy of Fine Arts Museum and Imperial Ancestral Temple, Beijing, China (2019); Fundación Proa, Buenos Aires, Argentina (2019); Serralves, Museu de Arte Contemporânea, Porto, Portugal (2018); Museo Universitario Arte Contemporáneo (MUAC), Mexico City, Mexico (2016); Palace of Versailles, Versailles, France (2015); Jewish Museum and Tolerance Center, Moscow, Russia (2015); Gropius Bau, Berlin, Germany (2013); Sak?p Sabanc? Muzesi, Istanbul, Turkey (2013); Museum of Contemporary Art, Sydney, Australia (2012).
Skulpturenpark Waldfrieden was opened in 2008 under the auspices of the Cragg Foundation. It houses a growing collection of sculpture, including important works by Tony Cragg. It also presents temporary exhibitions of internationally renowned artists, conferences, concerts and other events. The Cragg Foundation is dedicated to research and publication on the subject of fine art.
Skulpturenpark Waldfrieden Hirschstrasse 12z 42285 Wuppertal sculpturepark-waldfrieden.de/
Categories
Key words
Author
Marc Westall
Mark Westall is the founder and editor of FAD magazine, founder and co-editor of Art of Conversation and founder of the @worldoffad platform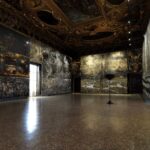 Tabish Khan the @LondonArtCritic chooses his favorite exhibitions to see in the wider Venice to complete his top 5 pavilions at the Venice Biennale […]
Anish Kapoor is the first British artist to be honored with a major exhibition at the Gallerie dell'Accademia and Palazzo Manfrin in Venice during the 59th Venice Biennale
Anish Kapoor will be the first British artist to be honored with a major exhibition at Venice's Gallerie dell'Accademia during the Venice […]
A giant red globe hangs above a clinical metal tray with spouts to allow the red liquid inside […]